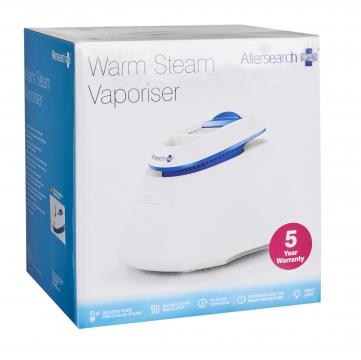 Delivers pure pre-cooled steam.

Suitable for use with children of all ages, the Allersearch Warm Steam Vaporiser emits steam that is 25% cooler than conventional vaporisers.
Features:
Automatic shut-off when water reservoir empties
Sliding steam regulator for adjustable steam flow
Nightlight
Additional drainage hole allowing complete emptying of water
Maximum water level indicator
Easy to clean and store
Oil reservoir sitting above the water take to deliver fragrant steam
Quiet operation
Warranty 5 years
Technical specifications:
Quiet operation: 40dB
Operation time: Up to 14 hours
Tank capacity: 4.5 Litres
Oil reservoir capacity: 35mL
Power supply: 240v-50Hz
Suitable spaces: up to 25m2
Dimensions: 27 W x 29 D x 22 H cm
Approval: NSW27909
Prior to using this product it is important you carefully read the instructions and keep them in a safe place for future reference. 
WARNING: Never add aromatic oils to the water tank.