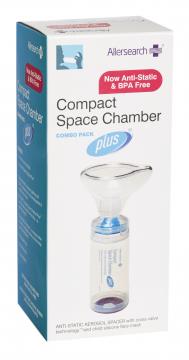 Anti-static aerosol spacer with cross valve technology and child silicone face mask.
For use by children 5 years and under using an MDI and spacer for the effective delivery of asthma medication.
The Spacer Combo Pack includes and Allersearch Compact Spacer Chamber Plus® Anti-Static spacer with a pre-packed, soft silicone face mask suitable for use with a child under 5 years of age.
Technical specifications:
Single patient use
Dishwasher safe – spacer only
1-year warranty
NOTE: To be used as directed by your doctor. Replace a spacer and spacer mask every 12 months when used regularly.