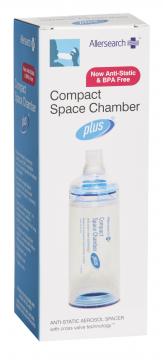 Anti-static aerosol spacer with cross valve technology.
Product explanation:
The Compact Space Chamber can be used with all standard format Metered Dose Inhalers (MDI/puffer) to assist in the effective delivery of asthma medication.
This Allersearch spacer features the unique Cross Valve Technology™, which improves one-way air flow to prevent medication from escaping and allows exhaled breath to be released outside of the chamber.
On top, its anti-static chamber minimises particles from sticking to the inner walls of the spacer. Therefore, there is no priming required.
NOTE: To be used as directed by your doctor. Replace a spacer every 12 months when used regularly.
Case study- Spacer
This is Daniel. He is 10 years old and has had asthma since he was five.
Recently he's been using his puffer more frequently and his dad believes he's not inhaling the medication correctly.
He suggests Daniel is not focusing on his breath especially when he's in a rush to get back to playing football. A small spacer may help Daniel.
The Allersearch Compact Space Chamber Plus is discrete and easy to transport to games due to its compact design.
 Product specifications:
22mm multi-purpose mouthpiece
Single patient use
Dishwasher safe
1-year warranty
Suitable for infants to adults.
Easy to transport due to it's compact and portable design
BPA free