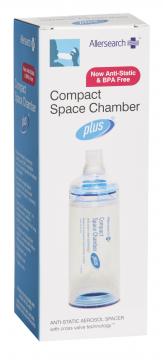 Anti-static aerosol spacer with cross valve technology.
For use with all standard format Metered Dose Inhalers (MDI/puffer) to assist in the effective delivery of asthma medications.
For optimal delivery of asthma medication, the Compact Space Chamber Plus® Anti-Static features the unique Cross Valve Technology™, provided very low resistance when inhaling the medication.
Technical specifications:
22mm multi-purpose mouthpiece
Single patient use
Dishwasher safe
1-year warranty
NOTE: To be used as directed by your doctor. Replace a spacer every 12 months when used regularly.