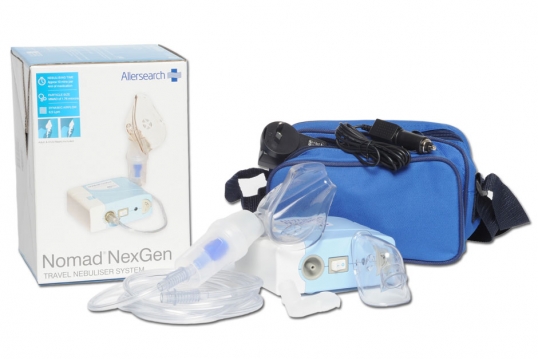 For frequent and long-term use at home or on the go.
Product explanation
The Nomad NexGen Travel Nebuliser System provides a reliable and compact option.  It is suitable for regular use (multiple times a day).
This Nebuliser is especially convenient on the go as it has multiple power source options; 240v power source, 12v DC cable for the car and a 12v battery which can be purchased separately.
NOTE: To be used as directed by your doctor.
Lyn and her Nomad NexGen Travel Nebuliser
Lyn is 80 years old and has COPD. Lyn also has quite bad
osteoarthritis (OA) in her fingers and finds COPD inhalers difficult to use.
Her doctor prescribes her COPD medication for use with a nebuliser.        
Lyn needs to replace her old one and knows how important it is to ensure the nebuliser is in good working order. Lyn needs her nebuliser for everyday use and sometimes stays with her daughter in the country, so needs it to be portable. The ideal solution is the Allersearch Nomad NexGen Travel Nebuliser for frequent and long-term use at home or on the go.
Product specifications:
Nomad NexGen Travel Nebuliser
Power adaptor
12v DC cable for the car
Carry case 
Adult and Child Mask
Mouthpiece
Replacement filters
Tubing
Nebuliser Bowl
Prior to using this product it is important you carefully read the instructions and keep them in a safe place for future reference.
Nebuliser Service Centres: Allersearch nebulisers should be checked every 12 months to ensure optimal performance and prolong the life of the nebuliser compressor unit. Contact the Allersearch Customer Support Line (PH: 1300 430 611) for the location of the nearest service centre.
Replacement air inlet filters are available through the Allersearch Customer Support line (PH: 1300 430 611).